Omron EE-SX970/971/972/974/975/976/977-C1 Series – Photomicro Sensors- Slot Type
USD $ 26.45 – USD $ 36.80
Description
Omron produce industrial sensors range such as fiber sensors, photoelectric sensors, displacement sensors/ measurement sensors, proximity sensors, photomicro sensors and rotary encodes.
Features
Built-in Connector for Downsizing and Easier Connection
A built-in connector minimizes the shape and dimensional requirements. And wiring costs can be reduced by using commercially available connectors.

Safer Operation with Built-in Power Supply Reverse Polarity Protection
The built-in power supply reverse polarity protection protects against reverse connection of the power supply or outputs for safer operation at the assembly site.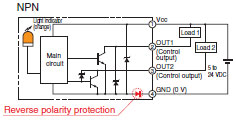 Easy-to-see Indicator
The indicator can be seen from up to four directions to enable installation in more locations.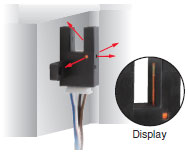 Built-in Thermal Shutdown Circuit
Control output 2 on models with NPN outputs is protected from output overcurrents by a built-in thermal shutdown circuit.
Two Outputs: Light-ON and Dark-ON
All models provide both a light-ON and dark-ON output so that the output can be switched according to the application simply by changing the wiring.
Lineup
Sensors
Appearance
Sensing
method
Con-
necting
method
Sensing
distance
Operating
mode
Indicator
mode
Model
NPN output
PNP output
Standard

Through-
beam
type
(with slot)
Connector
model
(4 poles)
5 mm
(slot
width)
(Infrared
light)
Dark-ON/
Light-ON
(2 outputs)
Incident
light
EE-SX970-C1
EE-SX970P-C1
L-shaped

EE-SX971-C1
EE-SX971P-C1
T-shaped,
slot
center
7 mm

EE-SX972-C1
EE-SX972P-C1
Close-
mounting

EE-SX974-C1
EE-SX974P-C1
T-shaped,
slot
center
10 mm

EE-SX975-C1
EE-SX975P-C1
F-shaped

EE-SX976-C1
EE-SX976P-C1
R-shaped

EE-SX977-C1
EE-SX977P-C1
Accessories (Order Separately)
Type
Cable length
Model
Connector with Cable
1 m
EE-1017 1M
3 m
EE-1017 3M
Connector with Robot Cable
1 m
EE-1017-R 1M
3 m
EE-1017-R 3M
Specifications
Type
Standard
L-shaped
T-shaped,
slot
center
7 mm
Close-
mounting
T-shaped,
slot
center
10 mm
F-shaped
R-shaped
NPN
EE-
SX970-C1
EE-
SX971-C1
EE-
SX972-C1
EE-
SX974-C1
EE-
SX975-C1
EE-
SX976-C1
EE-
SX977-C1
PNP
EE-
SX970P-
C1
EE-
SX971P-
C1
EE-
SX972P-
C1
EE-
SX974P-
C1
EE-
SX975P-
C1
EE-
SX976P-
C1
EE-
SX977P-
C1
Sensing distance
5 mm (slot width)
Sensing object
Opaque: 2 × 0.8 mm min.
Differential distance
0.025 mm max. *1
Light source (Peak
wavelength)
Infrared LED with a peak wavelength of 940 nm
Indicator
Light indicator (orange LED)
Supply voltage
5 to 24 VDC ±10%, ripple (p-p): 10% max.
Current consumption
21 mA max.
Control output
Load power supply voltage: 5 to 24 VDC, Load current: 50 mA max., Off-state current: 0.5mA
max, 50 mA load current with a residual voltage of 1.0 V max., 5 mA load current with a
residual voltage of 0.4 V max.
Protection circuit
Power supply reverse polarity protection; output reverse polarity protection;
overcurrent protection (only OUT2 on models with NPN output)
Response frequency
1 kHz min. (3 kHz average) *2
Ambient illumination
1,000 lx max. with fluorescent light on the surface of the receiver
Ambient temperature
range
Operating: -25 to 55°C Storage: -30 to 80°C (with no icing or condensation)
Ambient humidity
range
Operating: 5% to 85% Storage: 5% to 95% (with no icing or condensation)
Vibration resistance
(Destruction)
10 to 2,000 Hz 0.75-mm single amplitude (15-min periods, 10 cycles) each in X, Y, and Z
directions
Shock resistance
(Destruction)
Destruction: 500 m/s2 for 3 times each in X, Y, and Z directions
Degree of protection
IEC 60529 IP50
Connecting method
Connector
Weight (Packed state)
Approx. 3 g
Materia
Case/Cover
Polybutylene terephthalate (PBT)
Emitter/
receiver
Polycarbonate (PC)
*1. The differential distance is the value when a sensing object is moved in a lateral direction to the slot.
*2. The response frequency was measured by detecting the following rotating disk.
Connector
Product
Connector with Cable
Connector with Robot Cable
Model
EE-1017
EE-1017-R
Appearance

Contact resistance
25 mΩ max. (at 10 mA DC and 20 mV max.)
Insertion strength
20 N max.
Surplus strength
1.5 N min.
Cable length
1 m, 3 m
Ambient temperature range
-10 to +60°C
Materials
Housing
Nylon
Contact
Phosphor bronze
Tolerance class IT16 applies to dimensions in this datasheet unless otherwise specified.
Sensors
EE-SX970-C1
EE-SX970P-C1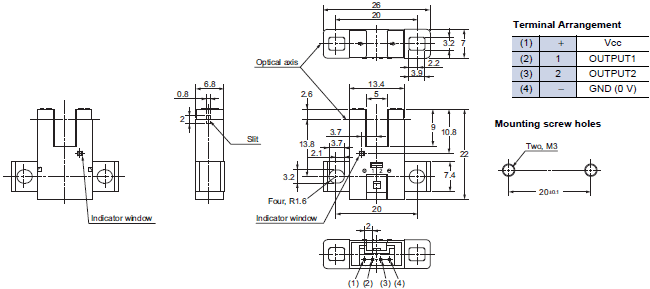 EE-SX971-C1
EE-SX971P-C1
EE-SX972-C1
EE-SX972P-C1
EE-SX974-C1
EE-SX974P-C1

EE-SX975-C1
EE-SX975P-C1
EE-SX976-C1
EE-SX976P-C1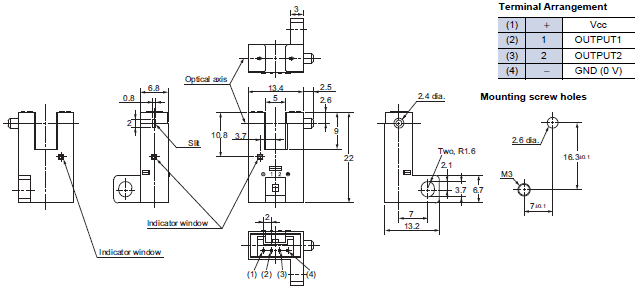 EE-SX977-C1
EE-SX977P-C1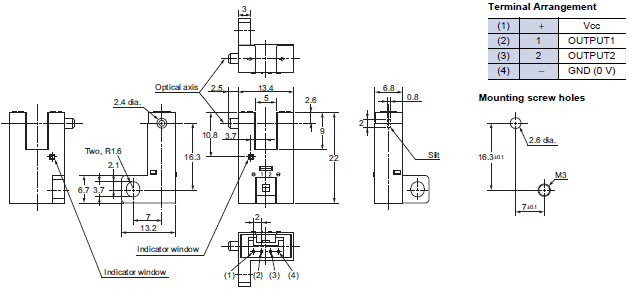 Accessories (Order Separately)
Connector
Connector with Cable
EE-1017
Connector with Robot Cable
EE-1017-R