Omron produce industrial sensors range such as fiber sensors, photoelectric sensors, displacement sensors/ measurement sensors, proximity sensors, photomicro sensors and rotary encodes.
Features
Color Mark Sensors Now Join the E3ZM Series of Photoelectric Sensors for the Food Industry
Space-saving Design with an SUS316L Housing (E3ZM Standard Size)
The compact design reduces volume by 90% compared with previous OMRON models.
And the world-standard dimensions contribute to standardized installation specifications.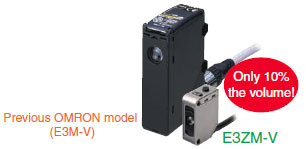 Coaxial Optical System in a Compact Design
Although the E3ZM-V is only 11 × 21 × 32 mm, it uses a coaxial optical system.
Even if the sensing object is inclined, reflected light is captured with the coaxial optical system to provide stable detection.

IP69K Degree of Protection with an SUS316L Housing (Same Durability as the E3ZM)
The housing is constructed of corrosion-resistant SUS316L, and the display cover is PES (polyethersulfone). Both materials are highly resistant to the effects of detergents and disinfectants. IP69K degree of protection also allows the E3ZM-V to withstand washing with high-temperature, high-pressure water. This makes the E3ZM-V well suited to use in sites requiring a high level of hygiene.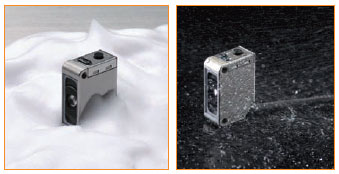 Cutting-edge Technologies Give This Color Mark Sensor Its Compact Size and Superior Performance.
Improved Color-difference Discrimination, RGB Signal Processing
Discriminates fine color differences which was difficult for previous OMRON models.
Teaching enables automatic selection of ideal colors.
Plus, response is a fast 50 μs for both ON and OFF operation.
(Patent pending)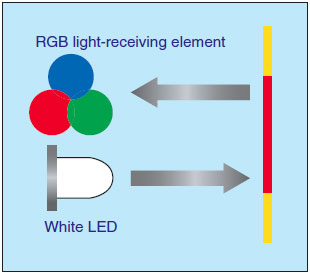 Easy Setting with 2-point and Automatic Teaching
2-point Teaching (Manual)
Simply aim the beam spot at the mark portion and background portion, and press the teaching button.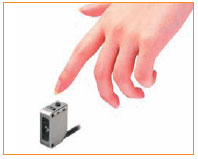 Automatic Teaching (Remote)
Send a pulse to the remote control input and have the mark pass by seven times for automatic teaching.
(Note: There is no answer-back output.)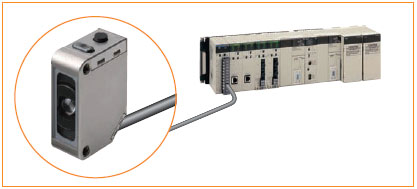 Lineup
Sensor
Sensing method
Appearance
Connection method
Sensing distance
Model
NPN output
PNP output
Mark Sensor
(Diffuse reflective)

Pre-wired (2 m)
12±2 mm *
(White light)
E3ZM-V61 2M
E3ZM-V81 2M
Connector (M8, 4 pins)
E3ZM-V66
E3ZM-V86
* A deviation of ±2 mm (typical value) can be handled for combinations of white, yellow, and black. Refer to Data Sheet
for the detection capability for other color combinations.
Accessories
Sensor I/O Connectors (Sockets on One Cable End)
(Models for Connectors: A Connector is not provided with the Sensor. Be sure to order a Connector separately.)
Size
Cable
Appearance
Cable type
Model
M8 (4 pins)
Standard
Straight *1

2 m
4-wire
XS3F-E421-402-A
5 m
XS3F-E421-405-A
L-shaped *1 *2

2 m
XS3F-E422-402-A
5 m
XS3F-E422-405-A
Note: The outer cover of the cable is made of PVC (polyvinyl chloride), the nut is SUS316L, and the degree of protection
is IP67. When high-pressure washing will be used, select an I/O Connector that has IP69K degree of protection.
*1. The connector will not rotate after connecting.
*2. The cable is fixed at an angle of 180° from the sensor emitter/receiver surface.
Mounting Brackets
A Mounting Bracket is not provided with the Sensor. Order a Mounting Bracket separately if required.
Appearance
Model
(Material)
Quantity
Remarks
Appearance
Model
(Metal
material)
Quantity
Remarks

E39-L153
(SUS304) *1
1
Mounting Brackets

E39-L98
(SUS304) *2
1
Protective Cover Bracket

E39-L104
(SUS304) *1
1

E39-L150
(SUS304)
1
(Sensor adjuster)
Easily mounted to the aluminum
frame rails of conveyors and
easily adjusted.
For vertical angle adjustment

E39-L43
(SUS304) *2
1
Horizontal Mounting
Brackets

E39-L151
(SUS304)
1

E39-L142
(SUS304) *2
1
Horizontal Protective
Cover Bracket

E39-L44
(SUS304)
1
Rear Mounting Bracket

E39-L144
(SUS304) *2
1
Compact Protective Cover
Bracket
Note: When using Through-beam models, order one bracket for the Receiver and one for the Emitter.
*1. Cannot be used for Standard Connector models with mounting surface on the bottom. In that case, use Pre-wired
Connector models.
*2. Cannot be used for Standard Connector models.
Specifications
Sensing method
Diffuse reflective (mark detection)
Model
NPN output
E3ZM-V61/-V66
PNP output
E3ZM-V81/-V86
Sensing distance
12±2 mm *1
Sensing range
Depends on the combination of colors. Refer to Data Sheet.
Spot diameter
2-mm dia. max.
Light source (wavelength)
White LED (450 to 700 nm)
Power supply voltage
10 to 30 VDC, including 10% ripple (p-p)
Power consumption
750 mW max. (current consumption for a 30-V power supply voltage: 25 mA max.)
Control output
Load power supply voltage: 30 VDC max., Load current: 100 mA max. (Residual voltage:
2 V max.)
Open-collector output (NPN/PNP output depending on model)
Remote control input
NPN output ON: Short-circuit to 0 V, or 1.5 V max. (source current: 1 mA max.)
NPN output OFF: Open or Vcc – 1.5 V to Vcc (leakage current: 0.1 mA max.)
PNP output ON: Vcc – 1.5 V to Vcc (sink current: 1 mA max.)
PNP output OFF: Open or 1.5 V max. (leakage current: 0.1 mA max.)
Operating modes
Set in the order of the teaching operation. *2
Protection circuits
Reversed power supply polarity, Load short-circuit protection, and Reversed output
polarity protection
Response time
Operate or reset: 50 μs max.
Sensitivity adjustment
Teaching method
Ambient illumination
(Receiver side) Incandescent lamp: 3,000 lx max., Sunlight: 10,000 lx max.
Ambient temperature range
Operating: -40 to 60°C (*3), Storage: -40 to 70°C (with no icing or condensation)
Ambient humidity range
Operating: 35% to 85%, Storage: 35% to 95% (with no condensation)
Insulation resistance
20 MΩ min. (at 500 VDC)
Dielectric strength
1,000 VAC at 50/60 Hz for 1 min
Vibration resistance
(destruction)
10 to 55 Hz, 1.5-mm double amplitude for 2 h each in X, Y, and Z directions
Shock resistance
(destruction)
500 m/s2 for 3 times each in X, Y, and Z directions
Degree of protection *4
IEC 60529: IP67, DIN 40050-9: IP69K
Connection method
Pre-wired cable (standard length: 2 m) or M8 4-pin connector
Indicator
Operating indicator (yellow), Stability indicator (green), and Teaching indicator (red)
Weight (packed state)
Pre-wired models (2-m cable): Approx. 85 g
Connector models: Approx. 35 g
Materials
Housing
SUS316L
Lens
PMMA (polymethylmethacrylate)
Indication
PES (polyethersulfone)
Buttons
Fluoro rubber
Cable
PVC (polyvinyl chloride)
Accessories
Instruction sheet Note: Mounting Brackets are purchased separately.

*1. A deviation of ±2 mm (typical value) can be handled for combinations of white, yellow, and black. Refer to page 7 for the detection capabilities for other colors.
*2. Mark Sensor output switching:
When teaching, specify the ON color first and the OFF color second.
*3. Do not bend the cable in temperatures of −25°C or lower.
*4. IP69K Degree of Protection Specification
IP69K is a protection standard against high temperature and highpressure water defined in the German standard DIN 40050, Part 9. The test piece is sprayed with water at 80°C at a water pressure of 80 to 100 BAR using a specified nozzle shape at a rate of 14 to 16 liters/min. The distance between the test piece and nozzle is 10 to 15 cm, and water is sprayed horizontally for 30 seconds each at 0°, 30°, 60°, and 90° while rotating the test piece on a horizontal plane.
Standard Sensing Object for the Mark Sensor
| | |
| --- | --- |
| Color | Munsell color notation |
| White | N9.5 |
| Red | 4R 4.5/12.0 |
| Yellow-red | 4YR 6.0/11.5 |
| Yellow | 5Y 8.5/11.0 |
| Yellow-green | 3GY 6.5/10.0 |
| Green | 3G 6.5/9.0 |
| Blue-green | 5BG 4.5/10.0 |
| Blue | 3PB 5.0/10.0 |
| (Black) | (N2.0) |